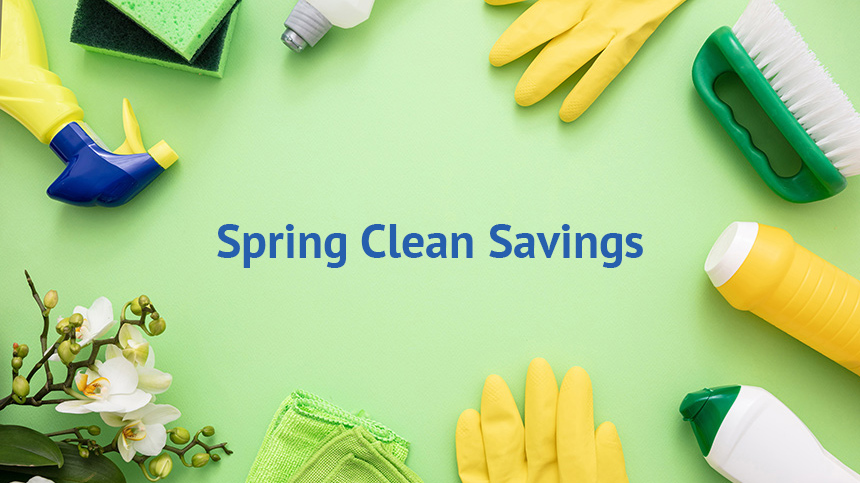 Deep Spring Cleans with Deep Savings at Clean Advantage
Michael Belliveau, Sales Manager, Clean Advantage
As Spring rolls in this year and your property becomes busier, whether you are a residence or a business, cleaning always comes up as a seasonal concern. Even if you have regular cleaning services throughout the year, this is the time for deep cleans and spot projects. Some services like bulk trash removal can clear away months of accumulated trash and floor treatments prevent new stains from multiplying for the rest of the year. Whatever your property needs, we know cost-savings will also be top of mind, so we put together some tips for finding some savings while also achieving a monumental Spring Clean!

Bundle Services as Add-Ons:
These days there are many instances in which bundling can save you money: insurance policies, cell phone plans, and even cleaning services. If you have an ongoing janitorial contract, you can often get other services like spot projects or seasonal deep cleaning at cost. Often these teams are equipped for more than just routine cleaning and having the same team perform all the services ensures a seamless schedule for you and your property.
Utilize On-Site Staff:
You have a great crew that's already familiar with your property, the routines and the cleaning needs. They can be your best tool for an efficient and cost-effective Spring Clean. While there may be a great cleaning schedule in place, that doesn't mean the need doesn't arise for a project or deep clean. Including your regular cleaning staff in Spring Cleaning is a way to utilize a great asset you already have, and it's an opportunity for them to feel even more involved in your property and its upkeep.
Use Better Chemicals:
In the process of cleaning interior floors, using higher quality chemicals can lift stains more cleanly and prevent new stains from sticking. For flooring, the kind of stripper and wax used can make polishing last longer, look better, prevent damage, and reduce overall maintenance. Clean Advantage has a Special Ops team dedicated specifically to cleaning and treating floors.
Prevent Exterior Dirt:
High-traffic areas on your property like garages and parking areas collect a lot of grime. Dirt from oil pools, exhaust dust, and tire grime can be tracked to interior floors and carpets causing damage. Exterior cleaning, however, requires more extreme cleaning measures, such as pressure washing to cut through the build up that accumulates over months between deep cleans.
Strategic Scheduling:
Cleaning can be a challenge depending on how busy your property is. Including other services on top of a regular cleaning schedule can be a little tight. Strategically scheduling your services can ensure they cause the least disruption to your property. For example, coordinate entire site bulk trash collection as opposed to ad hoc pick-ups as needed for individual buildings. This has the added benefit of keeping costs down!
It's never too early to start Spring Cleaning, and Clean Advantage is here to help you make the most of it! Reach out to our team to discuss bundling services, high-quality materials and strategic scheduling today.
Give us a call at (301) 579-8820 to schedule an immediate, on-site visit. Or, you can reach out to learn more.